Hello, and welcome to Mi Babe Pomeranians, home of beautiful, AKC Champion Show Poms and some adorable pets. I am located in central Arkansas, about 30 miles north of Little Rock. I have been breeding and showing AKC registered Pomeranians for about 30 years.
By the way, the Mi in Mi Babe Poms is pronounced My.
Like everyone, I love a pretty head, lots of coat, and a happy, outgoing personality in my show Poms. More importantly, I put a strong emphasis on sound structure, with great legs and movement. My goal is to breed healthy, happy, sound, and beautiful Poms that come as close as possible to the ideal that is described in the Pomeranian Standard
http://www.americanpomeranianclub.org/2011.htm
Pet Poms: I breed for show, so I never breed a litter specifically for sale as pets. I use high quality females, (sometimes ones that are Champions or have been shown,) out of a Champion sire or dam, sometimes out of a Champion Grandsire. But it's not possible for every puppy in a litter to be show potential, so sometimes I have beautiful puppies that will not be shown because of small imperfections. Things such as body a little long, lower than desired tail set, feet that point out instead of forward, ears slightly too big or set too low, bite overshot or undershot, not enough undercoat, anticipated weight a pound too heavy, and many other small things can prevent a puppy from being considered show quality, but they do not keep him/her from being a beautiful, fantastic companion. The "pet" Poms I have will be a better quality than most you find on pet Pom websites, because they are bred from excellent quality parents, and yet, despite all that, I do my best to keep the prices reasonable so that my puppies will get a loving home.
My goal for pet Poms is the same as for my show Poms:
Happy, healthy, beautiful Poms that will fit into your family's busy lifestyle or snuggle on your lap or your bed, where they will be hugged and pampered daily.
~~~~~~~~~~~~~~~~~~~~~~~~~~~~~~~~
Show Prospects and Pets
It is true that having a champion sire and/or dam, or champions in the pedigree, does not guarantee that all puppies in a litter will be show quality, so sometimes I have excellent quality pet/companion puppies or young adults available to loving, forever homes. Check out my
AVAILABLE
page if you are interested in a pet.
I occasionally have Show Prospects available.
Show Prospects will be posted on the
available
page.
~~~~~~~~~~~~~~~~~~~~~~~~~~~~~~
I have been a member of the American Pomeranian Club from 1985 to 1998, and 2003 to the present, for a total of 23 years.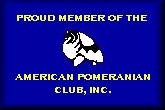 *********************************************************
I am a member of the Central Arkansas Pomeranian Club and have been
a member and officer of CAPC since it's founding over 20 years ago. I have served as President, Vice President, Secretary, Treasurer, and Board Member thruout the years, and am currently serving as President of CAPC.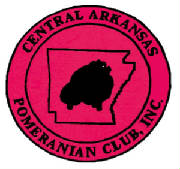 ******************************************************
Champion Mi Babe Buff's Luna Rain Beau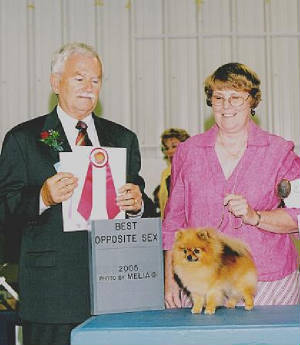 Luna was co-bred with Sue Cook and is co-owned with Buff Webb
Ch Luna is my special love, my heart Pom. She is my constant shadow and my bed-buddy. She finished in 6 weekends with two Specialty wins. Luna's sire is Bar-Net MiBabe Bebop to Music, a beautiful, tiny red sable boy owned by Pat Barnett, and bred by me. Altho not a champion himself, Bebop has sired several champions, and recently passed over to the Rainbow Bridge.
Luna's dam is CH Mi Babe Rain Beau's Margarita aka "Rita", bred by and owned by me and Sue Cook. She has produced several champions, and has a Register of Merit (ROM) title.

THIS IS A MERLE-FREE WEBSITE

I do not breed or own merle Poms

*****************************************************************************